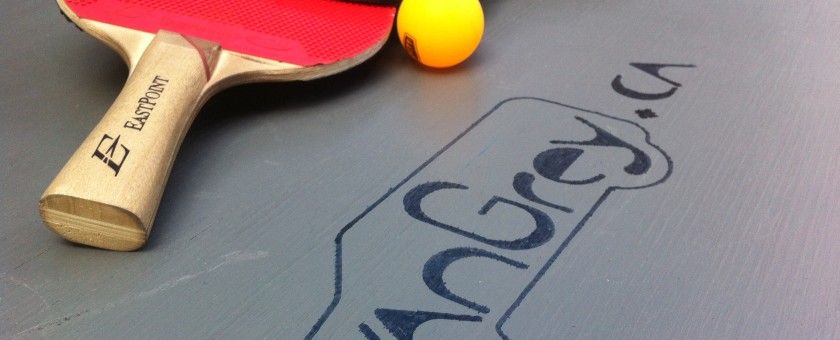 2014 / Nov / 24
ABOUT US
We make PLAY happen
miniPong is REDUCED size ping-pong. Portable and Versatile, miniPong makes any space a PLAY experience. 
miniPong formed in the Summer of 2013 by Ryan Jeans of vanGrey. A self identity brand name inspired by a work vehicle Ryan drove, a Grey van.
What started out as a hobby quickly became an all encompassing passion. A casual visit to the park with the first prototype miniPong folding table resulted in an immediate centre of activity. It was clear the public loved miniPong.
Over the following year the miniPong journey animating spaces all over Toronto ranged from boat cruises, weddings, birthday parties, bar mitzvahs, festivals with all genres of music and theme, private parties, corporate events, street festivals, camping, beaches, parks, political events, charities, schools, churches, recreation centres, sports arenas, cafes, bars, commercial lobbies, boulevards, bike tours, patios.
The list goes on…every imaginable setting received miniPong with overwhelming joy.
In November of 2014 a Pan Am grant submission program called Game on Toronto, led to the forming of miniPong Toronto as a community group and subsequent identity. Soon after such, a FB Group and weekly meet up at May Cafe was formed to UNITE the growing community interest for miniPong. 
Demand for purchase of miniPong Tables is growing so miniPong Toronto is now manufacturing renting and selling tables to the public. Initially miniPong Tables were handmade by Ryan at studio vanGrey. Demand has called us to scale up production. We are now taking orders for delivery.
miniPong is also prime real estate for promotional brand marketing. We apply images on tables with HD graphics overlay. Custom art prints and personalized tables made to suit your needs.